SUN-FLEX®
QLITE™
Smart desklamp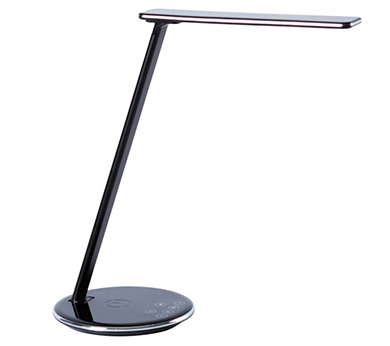 Specifications
Consumption: 5W
Technique: LGP (Light Guide Panel)
Light sources: Samsung
Color: Black/grey
Total length, luminaire: 613 mm.
Tablebase diameter: 165 mm.
Brightness: 800 lux
Dimmer: Yes, 200, 400, 600, 800 lux
Color temperature: 2800, 3400, 4500, 5600K (warm white – cold white)
QI charger: Yes
Charger indicator: Yes
Timer: Yes, 1 hour and 2 hours.
USB compatible: Yes. For simultaneous use of the lamp and charger, it is required that the computer's USB socket provides a minimum of 5V / 15W
Cordlenght: 200 cm.
Wall socket adapter: Yes, included
Anti glare: Yes
Flicker free: Yes
Packaging: Single, transportbox of 20 units.