SUN-FLEX®

Forearmsupport Pro
Adjustable clamps for optimal attachments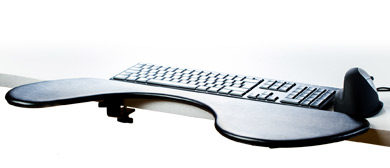 PRODUCT INFORMATION
The SUN-FLEX®Forearmsupport Pro sets a new and pioneering standard for forearm supports.
It is an ultra thin forearm support with soft and sturdy support for the forearms.
Thanks to the new and pioneering design, it is a superb solution for people working with keyboards and centralised pointing devices.
For traditional mouse work the SUN-FLEX®Forearmsupport Pro is the ultimate choice.
The multiple adjustment possibilities makes the SUN-FLEX®Forearmsupport Pro a perfect fit for any desk no matter thickness, frames, corners or rounded shapes.
The attachment clamps are shipped with different screws for individual choices.
The materials are carefully selected to give optimal relief. The top layer has micro pores which makes it easy to clean and even disinfect.
Ultra thin
Flexible attachments
Maximum comfort
Specifications
Ultra thin design, only 11 mm.
Perfect fit for all keyboards, centralized devices and mice.
Top layer with micro pores, easy to clean and even disinfect.
Soft and sturdy relieving material.
Steel base for sturdiness.
Shipped with adjustable clamps.
Warranty is two years from date of purchase.
Packaging: Single, transportbox of 8 units.