SUN-FLEX®

Footrest
State of the art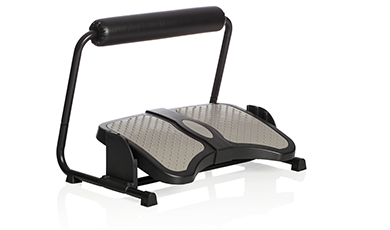 Specifications
Designed according to the EC Directives.
Adjustable height and angle.
Intuitive tilt of footplate to activate the lower leg muscles.
Curved in angle to accommodate the office chair and still sit close to the desk.
Upper soft padding so as "stretching out" is easily done.
Prevent thrombosis and so called "office feet".
ABS plastic, heavy-duty powder coated steel tubing and foam padding with leather.
Dimensions: 490 mm wide, 370 mm depth, 370 mm height.
Height adjustable mainplate: Yes, 3 positions. Lowest 8 cm., middle 12 cm., highest 15,5 cm.
Packaging: Single, master box of 5 units.