SUN-FLEX®
EASYDESK
ADAPT
Desking made easy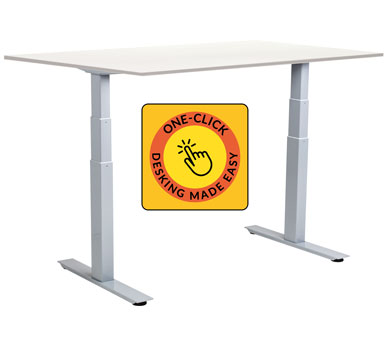 PRODUCT INFORMATION
SUN-FLEX®EASYDESK ADAPT is a complete range of electric height-adjustable desks offering a variety of options and great flexibility. The high-quality height-adjustable desk frame in combination with the desktop of your choice makes it simple for you to adapt your SUN-FLEX®EASYDESK ADAPT to match your preferences.
The range of products has been designed to make it easy for you to order an optimal desk solution. All you need do is select a single item number to be sure of receiving a high-quality, electric height-adjustable frame and a desktop in your choice of size and colour. The desktops have been given a special surface treatment called "Smoothtouch Matt" which helps minimise glare from ambient lighting, in line with the EN ISO 2813 standard.
The SUN-FLEX®EASYDESK ADAPT range features two different desk frames in three colours: White Aluminium, Pure White and Traffic Black. Choose between SUN-FLEX®EASYDESK ADAPT II, which has a single motor, and SUN-FLEX®EASYDESK ADAPT VI, which comes with two motors. If you need a sturdier frame with a greater range of movement for your workplace, select SUN-FLEX®EASYDESK ADAPT VI. Both frames are supplied with your choice of desktop in grey, white or birch.
You can operate the SUN-FLEX®EASYDESK ADAPT system with our app, which is simple to download to your smartphone from the App Store or Google Play. The app makes it easy to set up your new workplace to meet your personal wishes and requirements. You can adjust the height, set reminder functions, compile statistics and more – and all these options are available in nine languages! Another way to operate the height-adjustable desk is to use the Memory Control Panel, which features individual memory settings and an LCD display. The motor is encapsulated in insulating material to ensure a non-intrusive noise level, even in open-plan offices – fully in line with stringent Swedish standards.
The range of desks has been developed in Sweden and adapted to match the demanding requirements that apply there. All components used in SUN-FLEX®EASYDESK ADAPT are made of durable materials, with the emphasis on quality in every stage of the design and manufacturing process. The entire SUN-FLEX®EASYDESK ADAPT range comes with a five-year warranty. Naturally.
Working ergonomically should be easy: SUN-FLEX®EASYDESK ADAPT.
Take a look in our flipbook about SUN-FLEX®EASYDESK ADAPT!
English (EN)
Svenska (SE)
Dansk (DK)
Norsk (NO)
Suomi (FI)
Eesti (ET)
Lietuvių (LT)
Latviski (LV)
Polski (PL)
Complete range
One article number, a complete table
5 year warranty
One click, one delivery
Specifications
SUN-FLEX®EASYDESK ADAPT II
Color:
   White Aluminium (RAL 9006)
   Pure White (RAL 9010)
   Traffic Black (RAL 9017)
Anti-collision: Yes, gyro-based
Soft start/stop: Yes
LCD display: Yes, with memory function
App control: Yes, with the SUN-FLEX app (download from Google Play or App Store)
Lifting capacity: 120 kg (static), 80 kg (dynamic)
Number of motors: 1, encapsulated
Leg segments: 2
Height-adjustment: 700–1190 mm (490 mm)
Flexible top frame: Yes, 1000–1600 mm (600 mm)
Depth, top frame: 600 mm
Depth, table feet: 680 mm
Adjustable table feet: Yes
Packaging: Unit packed, with carrying handles
SUN-FLEX®EASYDESK ADAPT VI
Color:
   White Aluminium (RAL 9006)
   Pure White (RAL 9010)
   Traffic Black (RAL 9017)
Anti-collision: Yes, gyro-based
Soft start/stop: Yes
LCD display: Yes, with memory function
App control: Yes, with the SUN-FLEX app (download from Google Play or App Store)
Lifting capacity: 160 kg (static), 120 kg (dynamic)
Number of motors: 2, encapsulated
Leg segments: 3
Height-adjustment: 620–1270 mm (650 mm)
Flexible top frame: Yes, 1100–1600 mm. (500 mm)
Depth, top frame: 600 mm
Depth, table feet: 680 mm
Adjustable table feet: Yes
Packaging: Unit packed, with carrying handles


SUN-FLEX®DESKTOPS
Color: Grey, White, Birch
Material: high-pressure laminate
Sizes:
   120x80x2,2 cm
   140x80x2,2 cm
   160x80x2,2 cm
Surface treatment: Smoothtouch Matt"
Packaging: Unit packed