ProTouch™
TOUCH THE FUTURE

PRODUCT INFORMATION
A traditional computer mouse makes you use your wrist, shoulder and back to perform something as basic as moving a cursor across your screen or even just clicking. Over time, this can lead to muscle strain or RSI (Repetitive Stress Injuries).
With ProTouch™, you can avoid such problems altogether. Thanks to a unique design and clever functionality, repetitive computer work is now far more forgiving on your wrists, arms, shoulders and back. A central multi-touch unit with tactile keys lets you do more, with less strain.
Technology and function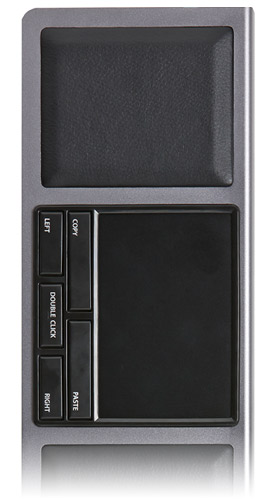 ProTouch™ combines the latest multi-touch technology with tactile keys. With the large, modern multi-touch unit, you can easily control functions such as moving the cursor, scroll, zoom etc. The tactile, silent yet distinctive keys encourage versatility and variety.
ProTouch™ is a modern product without moving parts, making it near immune to typical forms of mechanical wear and tear.
ProTouch™ installs automatically when you connect it to a free USB-port on your computer, via the rugged, included USB cable. It works seamlessly with all OS's, and the Extended Functionality version is fully compatible with the new application systems in Microsoft Windows.
ProTouch™ is as easy to use whether you are right- or left-handed because of the programmable keys and supports multiple screens.
Design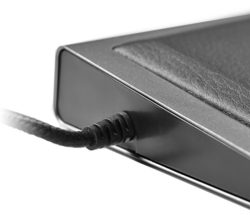 ProTouch™ is designed and developed in Sweden. Both in appearance and accessibility, it is truly top of the line. The aluminium body makes it not only solid and durable, but recyclable to boot.
The soft, firm wrist support is made of artificial leather, and ensures relaxing use.
As ProTouch™ contains no mechanical or moving parts, it's very easy to clean or even disinfect.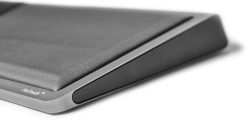 Ergonomically speaking
ProTouch™ is a new input device that minimizes the risk of repetitive stress injuries and other problems that can stem from monotonous computer work. Entering information by touching rather than by pressing or pushing, can significantly decrease the physical strain. Based on "scissor key" technology, the ProTouch™ tactile keys are firm, durable and distinct. The placement of the keys allow you to work both ergonomically correct and refreshingly flexible, encouraging you to use all fingers on both hands.
Installation
Place ProTouch™ between yourself and your external keyboard.
Connect the device to a free USB-port on your computer. Wait for the installation to complete (30 seconds).
Adjust your external keyboard to the desired position, possibly using the included level adjusters.
Your ProTouch™ is now ready for use.
For a full description of functionality, consult the manual.
FAQ
What gestures do ProTouch™ support?

My cursor moves really slowly, can I adjust the speed?
Yes. ProTouch™ settings are available under Control Panel / Mouse Settings on your computer.
Can I swap the functionality of the right/left click keys?
Yes. ProTouch™ settings are available under the Control Panel / Mouse Settings on your computer.
My ProTouch™ says "Z and C" when I use it. What does that mean?
That can happen if you use a ProTouch™EF (Extended Functionality) under Windows 7 or any older OS. Make sure you have the proper model for your Operating System.
Does the ProTouch™ support multiple screens?
Yes. You might need to adjust the cursor speed under Control Panel / Mouse Settings on your computer.
How do I clean my ProTouch™?
Because it has no mechanical parts, the ProTouch™ is very easy to clean. Just wipe it off with a damp cloth. If needed, it may also be disinfected.
I don't think my desktop is completely flat. Can the ProTouch™ be adjusted to compensate for this?
Yes. If you experience any problems, contact us.
"Can
Yes. If you contact us, we'll connect you to a suitable retailer.
What kind of warranty does the ProTouch™ have?
ProTouch™ comes with a 2 year manufacturer warranty against product defects from date of purchase.
Can I use a traditional mouse together with ProTouch™?
Yes. In fact, we recommend it. Using several input devices is ergonomically preferable to a static working position.
What computer keyboards is ProTouch™ compatible with?
ProTouch™ works with all straight keyboards available today. Use the level adjusters (included) to individually adjust.
Where can I purchase ProTouch™?
We have retailers all over Europe, North America and Australia. We'd be happy to direct you to one near you.
What is the difference between ProTouch™ and ProTouch™EF?
ProTouch™ is developed for Microsoft Windows 7 and older OS and with this you can utilize all functions that these OS support. The ProTouch™EF has so called Extended Functionality and therefore support and is fully integrated with so called "swipe functions". For full use it requires Microsoft Windows 8.
Modern, tension-relieving multitouch technology
Centrally positioned multitouch unit and tactile keys
Slim and modern design for optimal relief
No moving or mechanical parts
Recyclable materials
Specifications
Connectivity: USB, plug & play
Material: Aluminium
Measurements (multi-touch): 105x70 mm
Measurements (product): 450x120x21x(7) mm
Measurements (packaging, single): 560x190x60 mm
Weight (net): 700 gram
Weight (gross): 1600 gram
Units per shipping box: 10
Measurements (shipping box): 570x410x330 mm
Weight (shipping box): 17 kg